A technology job can be classified as any position that works with the scientific, mathematical, and computational aspects of engineering or the applied sciences. Although we often speak of the high-tech industry as if it were a monolith, it is actually a diverse field with many different professions, including computer engineering, web design, and game development. The requirements for employment vary from company to company. Larger companies like Google, for example, often prefer applicants who have earned at least a bachelor's degree. Conversely, many startups are concerned less with credentials and more with what hard skills an applicant has mastered.
Several tech careers require professionals to be independent, self-starters; they must be able to solve complex problems on their own. Others work on teams, owning one part of a larger program or piece of software. All technology professionals must have the ability to work with others and effectively communicate issues and solutions with a system in understandable terms.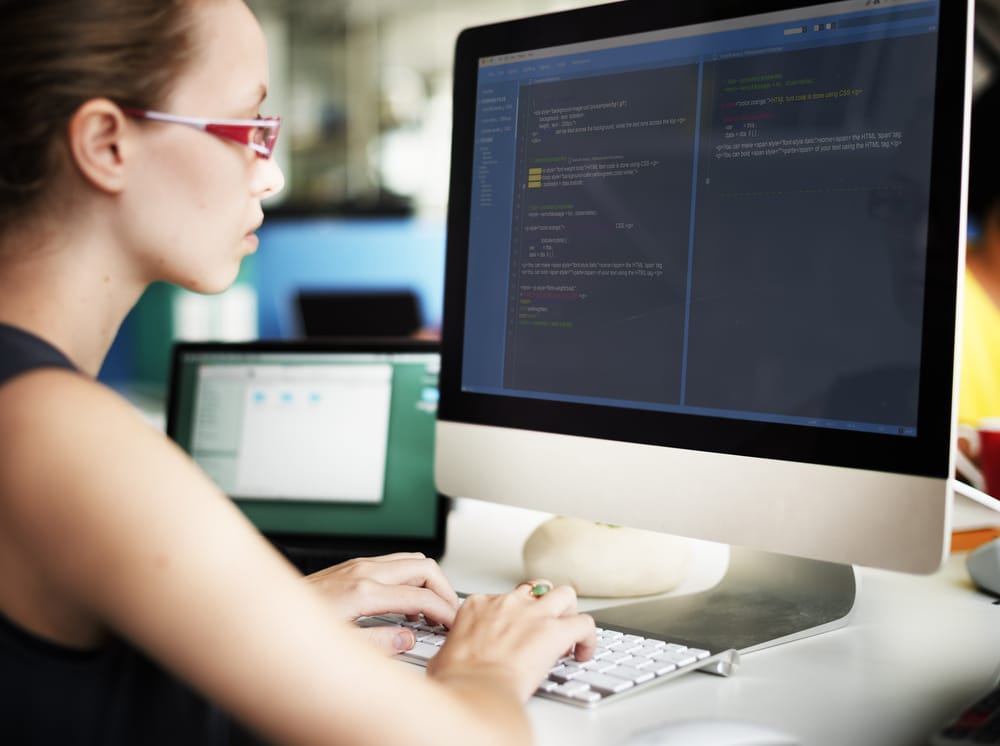 Technology Employment by State
Despite the rise of the so-called "gig economy" and the number of people working remotely, many jobs still require professionals to work on-site in a company office or be employed under a certain state. While California is number one in the nation for technology jobs, quality tech jobs exist all across the United States.
Educational Paths to Careers in Technology
Computer science jobs are about skills and information. A bachelor's degree is often the standard academic credential that employers look for with technology jobs. However, those with an associate degree or a training certificate may still find quality employment. Some employers may also consider hiring graduates of "coding boot camps, although they typically require further on-the-job training.
Here are some of the most popular college majors, for two-year or four-year degrees, that lead to technology careers:Computer Engineering
Students focus on computer science, engineering, mathematics, and physics. Graduates of a computer engineering program go on to become software developers, computer programmers, and systems engineers.Computer Science
Students are introduced to programming along with the science and math of modern computing. Students learn languages such as Java, C++, and Octave. Jobs for graduates include software architect, application software designer, and programmer.Game Design and Development
The course of study includes game history, analysis, and aesthetics, along with a focus on 2D- and 3D-level design. Students may study drawing, modeling, animation, film, and music. There is also a strong emphasis on design documentation and play-testing. Future career paths include working as a game designer, system designer or technical designer.Information Security Systems
The major includes coursework in information assurance, information security, network design and engineering, and business continuity. Students will learn how to protect organizational assets from threats of all kind. This course of study prepares students for a career as an information security manager, risk assessor, or analyst.Information Technology
Students learn how to design, create, and administer organizational databases. The course of study focuses on managing data information and knowledge bases, as well as assessing the information and data requirements of an organization. Related jobs include information technology (IT) manager, systems administrator, and network engineer.Network Management
The program introduces students to the principal of how to design networks, make technology-adoption and standards decisions, and create cost models for new technology implementations. Career paths include network analyst, network technician, and network systems engineer.Software Engineering
The course work involves software engineering classes, along with computer science, project management, mathematics, and statistics. Students go on to become software engineers, software developers and database analysts.Web Design and Development
Students study how to design, develop, and manage web sites. The course of study involves classes on web-authoring and data processing tools for web development. Jobs for web design majors include web administrator, web designer, and webmaster.
The Ups and Downs of Coding Boot Camps
Coding boot camps are intensive technical training programs that teach students how to write code and build applications. The boot camps usually last eight to 12 weeks, and have become an increasingly popular option among working professionals seeking a fast track to advance their careers.
While coding boot camps can help individuals save time and money compared to programs offered through a four-year college, the effectiveness of such short-term trade schools is debated. Most tech professionals agree that boot camp students do not gain a deep understanding of computer science theory, nor do they have time to focus on more than the coding aspect of technology. In order to be successful in the long run, boot camp graduates will typically require mentorship or on-the-job training, services not often provided at high-growth startup companies.
For the right candidates, however, these programs do have benefits. Graduates of some boot camps earn a higher income after completing the program. Candidates are advised to be 100% committed to changing jobs and pursuing a career in programming, as the demanding schedule required to complete such a boot camp may mean that they have to leave their job.
Experts suggest that interested applicants first try one of the many free coding programs offered online to determine whether they want to pursue programming. Those who choose to commit are also warned to avoid scam sites posing as boot camps by thoroughly researching each program and reviewing its job placement rates and career services.
The TechHire Initiative
TechHire is a White House initiative that seeks to rapidly train workers for well-paying, open technology jobs in months. The initiative is a collaboration of employers, training providers, and workforce and economic development organizations using the resources of universities, community colleges, online courses, and coding boot camps. TechHire is aimed at students who are looking for a nontraditional path to well-paying tech jobs. It also targets underrepresented people, such as women, minorities, veterans, and people with disabilities. This initiative strives to become "the pipeline" the country needs to get these groups into computer science jobs.
Over 50 communities are now participating in the TechHire Initiative to create more training opportunities for tech workers. Several companies, including Microsoft, Flatiron School, and Dev Bootcamp, are expanding their free and low-cost training courses, and approximately 600 employers are recruiting and hiring graduates of these programs.
Distance Learning Opportunities
Distance learning offers traditional and nontraditional students a convenient and affordable way to prepare for information technology and computer science jobs. Online learning is particularly advantageous for people who are already employed full-time and are looking to make a midlife career change. Most colleges and universities have a distance education division that allows students to take individual courses, earn a certificate, or get a degree entirely online. Students can also participate in coding and development boot camps entirely online as a way to grow their skill set and boost their resume.

Technology Certifications
There are hundreds of technology certifications for IT professionals. Popular ones include Project Management Professional (PMP), Microsoft, Cisco, and Oracle certifications. Within the industry, there is some debate about their utility. On the plus side, pursuing a certification helps professionals learn a new technique or program and demonstrates to an employer that they have mastered a specific skill set. Those who are skeptical, however, feel that some people try to substitute actual industry knowledge with technology certificates. Other critics argue that technology changes so quickly today that knowledge gained via a certificate program is quickly outdated. Nobody disputes, however, that technology careers depend on education and training, no matter what its form.
Women in Tech
Women now make up nearly half of America's workforce, and the number of female students earning degrees in higher education continues to soar. According to The Atlantic, in 2015, 72.5% of females who had graduated high school went on to enroll in a two-year or four-year college, compared to 65.8% of men. Yet, while women now account for nearly half of the students earning advanced degrees in law, medical, and business fields – all historically dominated by men – they are still underrepresented in STEM (science, technology, engineering, and math) fields. Research shows that women comprise just 36.8% of entry-level workers in the tech field.
Fortunately, dozens of companies and organizations are now working to address the "pipeline problem", which is that many young girls are not introduced to computer science at an early age. Several big companies, including Microsoft Corp., have launched mentorship programs and scholarships specifically targeting young female students studying STEM fields. Other firms, such as Facebook and Pinterest Inc., follow the Rooney Rule, requiring at least one female or minority applicant to be interviewed for a job opening. Many tech companies in recent years have also begun providing better parental-leave benefits to accommodate workers trying to balance their career and family lives.
Career Paths in Technology
There are dozens of computer jobs and endless career paths individuals can take as a technology professional, all of which depend on multiple factors including specific training, interests, and job requirements and responsibilities. Below are some of the most prominent career paths, along with the mean average salary, the degree or certificate requirements, and its growth opportunities for the future. All data is provided by the U.S. Labor Department's Bureau of Labor Statistics.
Tech Careers
Computer and Information Research Scientists
Mean Annual Salary: $118,370
Degree/Certification Required: Master's in computer science or a related field, though a bachelor's degree may be sufficient in government jobs.
Projected Job Growth Outlook (2014-24): 19%
Number of People Employed: 27,900
Computer researchers create new ways of computing and are charged with finding innovative uses for existing technology. They are employed in business, medicine, and science.
Computer Network Architects
Mean Annual Salary: $109,020
Degree/Certification Required: Bachelor's degree and professional experience
Projected Job Growth Outlook (2014-24): 6%
Number of People Employed: 162,700
Computer network architects design and build data communication networks, such as local area networks (LANs), wide area networks (WANs), and intranets. This includes small connections between offices to capabilities like cloud infrastructures that service multiple customers.
Computer Programmers
Mean Annual Salary: $88,280
Degree/Certification Required: Bachelor's degree
Projected Job Growth Outlook (2014-24): -7%
Number of People Employed: 273,600
Programmers write and test code to ensure that computer applications and software programs function as they should. They work with plans formulated by software developers and engineers and turn them into instructions for computers.
Computer Systems Analysts
Mean Annual Salary: $88,740
Degree/Certification Required: Bachelor's degree
Projected Job Growth Outlook (2014-24): 9%
Number of People Employed: 654,900
Computer systems analysts design information system solutions to help organizations operate more efficiently. They work as liaisons between business and information technology (IT), merging the two.
Database Administrators (DBAs)
Mean Annual Salary: $90,070
Degree/Certification Required: Bachelor's degree
Projected Job Growth Outlook (2014-24): 11%
Number of People Employed: 119,500
DBAs work with special software to store and organize a company's important data. They ensure the data is organized, accessible by authorized individuals, and safe from unauthorized access.
Information Security Analysts
Mean Annual Salary: $98,350
Degree/Certification Required: Bachelor's degree
Projected Job Growth Outlook (2014-24): 28%
Number of People Employed: 100,000
Information security analysts create plans to protect an organization's computer networks and systems. They are the first line of defense against cyberattacks.
Network and Computer Systems Administrators
Computer and Information Research ScientistsComputer Network ArchitectsComputer ProgrammersComputer Systems AnalystsDatabase Administrators (DBAs)Information Security AnalystsNetwork and Computer Systems Administrators
Mean Annual Salary: $82,050
Degree/Certification Required: Bachelor's degree
Projected Job Growth Outlook (2014-24): 6%
Number of People Employed: 391,300
Network and computer systems administrators are responsible for the day-to-day operation of computer networks at a given organization.
Software Developers
Mean Annual Salary: $105,590
Degree/Certification Required: Bachelor's degree
Projected Job Growth Outlook (2014-24): 24%
Number of People Employed: 1,256,200
Software developers develop the computer programs that allow people to use computers and other devices as effective tools. They also develop the underlying systems that control networks.
Web Developers
Mean Annual Salary: $69,430
Degree/Certification Required: Associate degree
Projected Job Growth Outlook (2014-24): 15%
Number of People Employed: 162,900
Web developers design and create websites, work with the site's look and its technical aspects, and are responsible for web analytics.
Alternative Tech Careers
While a good portion of technology jobs are related to programming and computers, there are other professions beyond computer science, including certain types of writers and artists, who now work in such a way that their vocation is intertwined with technology. Here are some examples of alternative technology careers.
Audio Workers
Mean Annual Salary: $43,660
Degree/Certification Required: Most have a postsecondary education
Projected Job Growth Outlook (2014-24): 8%
Number of People Employed: 134,300
Audio-visual and multimedia collections specialists prepare, plan, and operate multimedia teaching aids for use in education. They may be involved with recording, cataloguing, and filing materials. The profession also includes broadcast and sound engineering technicians who work with radio programs, television broadcasts, concerts, sound recordings, and movies.
Computer Support Specialists
Mean Annual Salary: $53,470
Degree/Certification Required: Varies
Projected Job Growth Outlook (2014-24): 11%
Number of People Employed: 835,300
Computer support specialists offer advice on using computer software or equipment. Some of them support information technology (IT) employees, while others assist non-IT users who are having computer problems.
Multimedia Artists and Animators
Mean Annual Salary: $72,520
Degree/Certification Required: Bachelor's degree
Projected Job Growth Outlook (2014-24): 8%
Number of People Employed: 73,700
Multimedia artists and animators create animation and visual effects for all kinds of media, including television, movies, video games, and online digital media.
Technical Writers
Mean Annual Salary: $71,850
Degree/Certification Required: A college degree is usually required, plus experience with a technical subject.
Projected Job Growth Outlook (2014-24): 11%
Number of People Employed: 52,400
Technical writers write copy for instruction manuals, how-to guides, journal articles, and other documents to explain technical matters to readers.
Meet a Tech Professional
DR. CHAD MOURNING
OWNER, AFFINE TECHNOLOGIES
Please summarize your academic and professional experience.
I received a BS in computer science from Ohio University in 2006, and immediately became a National Science Foundation GK-12 fellow while working on my master's. I received my master's in computer science, also from Ohio University in 2008. At this point I entered the PhD program and received a PhD in electrical engineering and computer science in 2015. In 2011 my labmate and I founded our own company, Affine Technologies, primarily as a way for the Ohio University Avionics Engineering Center to pay us while circumventing the university student employment limit of 20 hours a week. In 2012 we joined a business accelerator and were awarded $20,000 to start a business based around our graduate research, 3D Virtual World-based data visualizations for unmanned aerial vehicles.
What factors should students take into account when considering a degree in technology?
A degree in computer science is basically guaranteed employment, even for mediocre students. Demand is so high that Ohio University actually has trouble graduating seniors before they are offered jobs and drop out. That said, being a "good" computer scientist is not easy, so getting the "best" jobs can be quite competitive. Also, we get a lot of people interested in video games that apply for our major (it's partly why I decided to be a computer scientist), but students need to realize you will not to get the skillset to do these sort of things immediately, so be prepared to stick it out. Also, the demographics are very skewed. At Ohio University, the ratio of male-to-female computer science students is about 9:1; non-Asian minorities are also underrepresented, so special assistance (both financial and academic) is often available for these demographics.
What do you find most fulfilling about working in technology?
Being a computer scientist, or programmer in general, makes it very easy to chase your other passions. Whether it's physics, art, or library sciences, they all need programmers. Also, it harnesses the power of creation. You program something and immediately see its effects – especially if you are in the computer graphics field like I am.
What are the greatest day-to-day challenges you face?
Many people do not fully appreciate that the purpose of graduate school, and the university in general, is to create new knowledge. Generally, a master's or PhD allows students to carry out independent research and come up with novel solutions to problems on their own, run experiments, and analyze the results. The hardest part of my 13 years in college was coming up with a truly novel idea for my PhD. Implementing, testing it, and analyzing the results were the easy part. Whether you are a painter or a programmer, you can't be taught how to be creative.
What type of person excels in technology?
Hyper-rational individuals make the best computer scientists. Any problem, no matter how complicated, can be broken down into smaller and smaller subproblems until you end up with, effectively, a series of "yes or no" questions. That's not to say intuition isn't helpful, but being able to analyze your problem is more important. You will spend more time debugging your programs than writing your first draft; being able to diagnose, find, and fix your problems quickly makes your life and your boss's life much easier.
What additional advice can you give to someone pursuing a technology career?
You will not learn what you need to know in the classroom. Your coursework will teach you how to learn what you need to know on your own. On your first day of work, you will be asked to do things you've never done before. Google is your friend, unless you are on the bleeding edge of research (which you will be as a PhD student), someone has had your problem before, and the answer is probably online. Similarly, if you use the time wisely, while you are in school you will learn just as much, if not more, outside the classroom as in it. Have side projects. Go to your professional organization (IEEE or ACM) meetings. Talk shop with like-minded individuals. And remember, people will only care about what you do as much as you do.
Additional Resources
Whether you are a new college graduate or a seasoned IT professional, these sites will help you find jobs, expand your skills, and network with others in the tech fields.
Tech Career Job Sites
Dice.com: With an easy-to-search database, this site is a "career hub" for IT professionals looking for work.
iCrunchData: This site specializes in people looking for information technology jobs in big data, analytics, and tech.
ITJobPro.com: Users can browse lists of the latest tech and engineering jobs, while also purusing tech industry news.
CrunchBoard: This job board is run by the well-respected tech news site TechCrunch. Jobs are cross-posted to the newsletter and main site.
TechCareers: Operated by Beyond.com, this site offers access to job listings, educational tools, and networking opportunities.
Continuing Education in Tech
CompTIA: Continuing Education (CE) programs through CompTIA are designed to help people grow their IT careers, become certified in various skills, and keep their certifications current.
Florida Institute of Technology: The CE program provides job skills training, career enhancement, and professional enrichment training in science, technology, engineering, and mathematics.
RailsGuides: Programmers and web developers can begin learning the programming language Ruby on Rails through this site.
Coursera: By partnering with top universities and organizations worldwide, Coursera offers classes in programming, web design, etc., to improve your skills.
Codewars: This collective helps programmers improve their skills by training with other coders on real code challenges. Languages include Ruby, Java, CoffeeScript, and more.
Professional Organization for Tech Careers
Association of Information Technology Professionals (AITP): Student and professional members of AITP have access to a career center and resources designed to advance their IT careers.
The Association for Women in Computing (AWC): AWC provides women in the tech field with resources and networking opportunities to advance their careers. Member chapters work together to encourage women to work in computer science and technology.
BDPA: This community for African Americans working in information technology provides networking opportunities and professional development for its members.
The Associate of Software Professionals (ASP): This professional association encourages members to work with each other and other professionals to keep abreast of the current advancements in software.